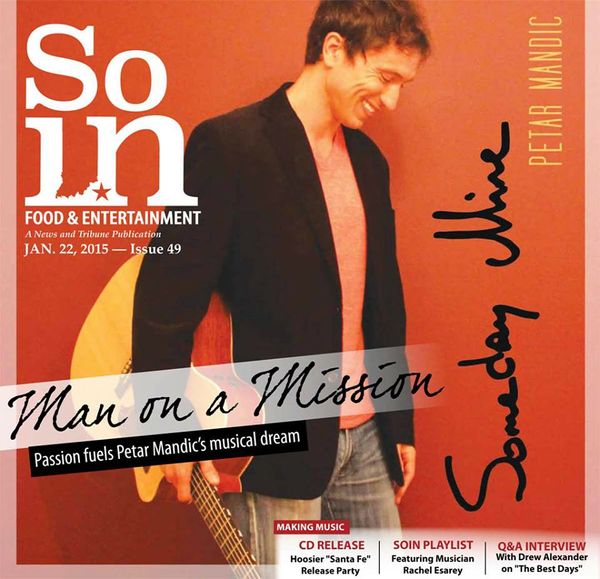 SoIN
-
A News and Tribune Publication • Jan. 22, 2015 - Issue 49
Man on a Mission - Passion fuels Petar Mandic's musical dream
By Jason Thomas
 

From Serbia with love - Petar Mandic launches debut album with fervor
Just like anyone chasing his dream, Petar Mandic oozes passion. On one hand, the release of Mandic's debut album, "Someday Mine," is validation he's on the right path. On the other hand - both of which are usually holding a guitar - The Slovenian-born, Serbian-raised musician is a work in progress. "I'm not even close to what I want to accomplish," said Mandic, 34, whose debut collection of five songs recorded at Jeffersonville's Jetlag Recordings was released Nov. 5. "If anything, I need to remind myself to be a little more in the moment and enjoy the journey. "In this chapter of my life I am more present than I ever have been." For Mandic, who's cultivated a loyal following through energetic performances on the Southern Indiana and Louisville music scene, the journey continues to unfold.
The album, a modern, pop-folk exploration of love - or lack of love - dreams, and pursuing your passion, represents a milestone in a relatively young musical career. Less than two years after deciding to pursue music full time, "Someday Mine" is tangible evidence that Mandic is, indeed, a musician. "I'm happy," said Mandic, who is a regular at Huber's Orchard, Winery and Vineyards. "I think it's a very respectable product. I've seen it move people. I feel like it's a good step in the right direction."


Songwriting fuels Mandic's passion. It's something he started dabbling in soon after picking up a guitar nearly eight years ago.
Song No. 5 on the album, "Lilly," an introspective, almost melancholy yearning for love, was the second song Mandic ever wrote.
"I always wanted to be a songwriter," he said. "To me that's the truest form of my artistic expression and my ability to hopefully move people and connect with people."
From a collegiate tennis player to corporate rock star to a man chasing his musical dream, Mandic has experienced more in 34 years than most will in a lifetime. "You walk different paths and see what makes you happy," Mandic said. "It involves risk-taking. If I'm doing something other than music presently, I feel that my life on this Earth is not being used properly." Mandic's journey on the Earth has spanned continents.
Chasing the American Dream
He arrived in the United States at 17 on a tennis scholarship to the University of Iowa. After graduation, it was off to Atlanta and the beginning of a successful career in the corporate world. In 2004, Mandic faced a decision: move to Chicago or Louisville for promising jobs in both cities. He chose Louisville, where he excelled in the finance sector as a loan systems analyst and various other roles. While financially comfortable, something tugged at Mandic.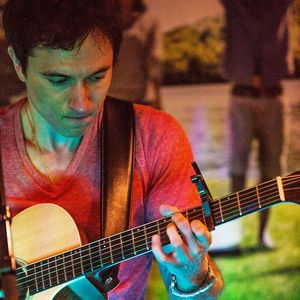 "Music has always been present in my life," he said, recalling the days he would pretend to play guitar on his tennis racket when listening to records. "I've always had a strong emotional connection to it." Three years after arriving in Louisville, Mandic would pick up the guitar in earnest. Lacking "a strong sense of purpose" at the time, and suffering through some relationship woes, music would be his salvation. Mandic went to work. Like he did with tennis and a stint at acting, the Middletown resident devoted his entire self to learning how to play guitar and tuning his voice. He picked the brains of other local musicians. He met with guitar and voice professors at the University of Louisville and Bellarmine University. He'd lock himself in his bedroom and just...practice. "A lot of it was going through the woodshed phase," Mandic said. "It was hours and hours of study where I feel my discipline and my work ethic came in. I've always had that." Mandic admits his intensity can drive people away. Jetlag owner Michael Sanders, who recorded "Someday Mine," was almost one of them. "Everything he does, he does with all his heart," Sanders said. "I went through stages of kind of hating that. We went through the whole gamut of friendship but ended up at a great place."
The Woodshed Sessions
 
It was months before Mandic perfected his first song: Jason Mraz's "I'm Yours." Nearly two years after succumbing to guitar fever, Mandic worked up the nerve to perform at an open mic. The setting: The Hideaway Saloon on Bardstown Road. "I was sweating, just dripping," he said. "I was playing the guitar so hard that my fingers were bleeding." It wasn't long until the open mics grew into hour-long gigs with other local musicians. Mandic, who fancies himself a modern folk singer, knew he'd have to expand his repertoire. He added diversity to his song catalogue, mastering country heavyweights like Johnny Cash and Randy Travis, Motown groovers like Marvin Gaye, even dabbling in old-school rap and Top 40 radio hits.

"Who would have thought a guy from Serbia, that struggles with English sometimes, here I am in the middle of America, in Kentucky, playing country tunes?" Mandic said. "That willingness to push myself outside of my comfort zone, I think it's what helped me and continues to help me." After another career turn - Mandic left the corporate world to become a tennis pro at a Louisville country club - the desire to become a full-time musician was insatiable. In 2013, he took the leap to devote himself full time to his passion. "I got to the point that if I am going to give myself the best chance to succeed musically, I needed to do whatever I can to focus my efforts only towards music,"
he said. "If I want to truly follow my dream I have to be this and nothing else."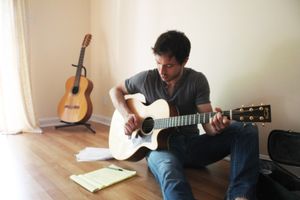 Making a Connection
 
In 2013, Mandic played 282 live shows. Monday gigs at Gerstle's that started out with just a bartender in the crowd, now have 30 regulars there to see Mandic. Bethany Witten, 25, was at one of Mandic's first shows at Molly Malone's. The director of vendor relations and events at Big Spring Country Clubs Inc's Harmony Landing Campus, Witten admires his all-or-nothing attitude in doing what he loves. "He's actually the embodiment of that," said Witten, who stopped by Mandic's gig at Drake's in St. Matthews last week. "A lot of people don't have that kind of passion for anything. Right, wrong or indifferent, he has something he cares about, and fortunately, he's really good at it. "I've never met anyone more passionate and driven about it. I think that's what has gotten him so far."

Ellie Thomas, graphic designer at Huber's who designed Mandic's album and co-designed his website, has seen the passion firsthand. "Petar constantly had great ideas and helped with every aspect of the "Someday Mine" design," Thomas said in an email. "As a person he is one of the most genuine and honest people I know who always finds time to give and help those around him."

Open-mindedness has also helped. Mandic went into the studio thinking "Someday Mine" would be a stripped-down set, just him and a guitar. That evolved with the additions of Sanders' backing vocals and drum work. "We started adding some stuff. He had no idea where we were going, and neither did I," Sanders said. "As we got more production in there, it was whatever happened, happened. For instance, the album's first song, "Don't Let Him Go," gained an alternative, modern edge with Sanders' production. "I never thought it was going in that direction," Mandic said. "To be able to give these songs a bit of a different life was exciting."

For Mandic, it was just another step in the quest for that preternatural connection between artist and subject. "From day one, that has always been the goal and I have not reached it yet. I don't know if I will," he said. "My goal is to play my own music and touch the hearts of people, however many that is, that exchange of energy where I can see in another person that they're in another place. "That's really what it is all about for me with music."